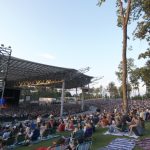 Welcome To Verizon Wireless Amphitheatre at Encore Park
Celebrating our fifth year of live music, Verizon Wireless Amphitheatre at Encore Park has proudly watched world class performers take the stage including the Eagles, Tom Petty and the Heartbreakers, Dave Matthews Band, Kenny Chesney, Van Morrison and Phish to name a few. Set on 45 acres of beautifully-landscaped wooded land in Alpharetta, GA, the 12,000-seat Amphitheatre provides a unique setting for both music lovers and first-time concertgoers. The beautiful park-like atmosphere allows concertgoers to enjoy music surrounded by a number of large heritage trees, plants, and flowers all native to the park.
In 2011, Verizon Wireless Amphitheatre at Encore Park ranked 14th in the world on Pollstara™s top 2011 Amphitheatres by ticket sales. The state-of-the-art venue a" nominated by Pollstar Concert Industry Awards in 2008, 2009 and 2011 as aœBest Major Outdoor Concert Venuea a" serves as the summer home of the Atlanta Symphony Orchestra. Verizon Wireless Amphitheatre at Encore Park is owned by the Robert W. Woodruff Arts Center, Inc., and is operated by the Atlanta Symphony Orchestra.
Big Apple Circus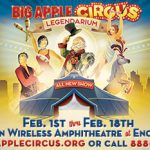 Monday, February 18th, 2013
The Big Apple Circusa™ Big Top Tent is located in Parking Lot A at 1775 Founders Pkwy, Alpharetta, GA 30009. Please note that there is a Parking Fee a" $10 cash only at the gate.
Big Apple Circus presents LEGENDARIUM: A Journey Into Circus Past returning to Georgia for the first time in three seasons! FEBRUARY 1 a" 18, 2013 Welcome to the Big Apple Circus LEGENDARIUM, where you will experience the nostalgic thrills of bygone Big Tops and get a firsta"hand view of Beauties, Daredevils, and Clowns from another era! At our All-New 35th Anniversary season production, no seat is more than 50 feet from the Globea™s Most Spectacular Circus Performers! The Big Apple Circus presents LEGENDARIUM in its first engagement in three seasons in the Atlanta area, with performances at the Verizon Wireless Amphitheater at Encore Park in Alpharetta from Friday, February 1st through Monday, February 18th (Presidents Day).Travel back to when circus traditions were born and witness incredible acts that would have had the villagers chattering for days! The courageous mid-air flips and catches of a man on the trapeze! A captivating contortionist whose flexibility is as impressive as her steadfast poise! An agile, adept acrobat and her strapping suitors! A swaying wire act of sure-footed strength and stability! The dizzying delights of a daring inventor in his tumbling, twirling hoop! The stunning, soaring beauty of a pair on aerial straps and a woman held aloft by hanging silks! A jaw-dropping juggling tango team performing to passionate rhythms! Bicyclists whose spinning wheels turn smooth and speedy stunts! Majestic horses with graceful gaits and playful pups with teasing tricks! And what circus would be complete without bumbling clowns who bring the spirit of timeless comedy?! Ita™s all led by an affable Ringmaster and the great Big Apple Circus Band playing the iconic songs of yesteryear! So run away with the Big Apple Circus and relive Big Tops of old in a memorable one-ring show for the ages!
Now Selling in Johns Creek!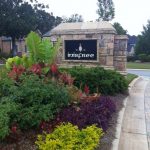 Looking for that special place to call HOME?  Look no further!  Home South communities is pleased to announce that Pre-Sales are now available at their newest community, Inisfree.   Inisfree is located in the heart of Johns Creek and convenient to GA-400, North Point Mall, plus dining and entertainment.  Let your children further their education at the highly sought after North Fulton School District a" Northwood Elementary, Haynes Bridge Middle School and Centennial High School.
This prestigious community provides a aœsmall towna feel with a small number of homesites and a beautiful large park.  The park offers room for the family to play or just simply relax on one of the arbor swings and enjoy the scenery.
If you havena™t been by Inisfree yet, feel free to stop by!  We have 4 new homes that will be ready in March 2013!!!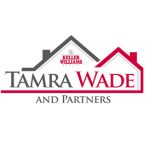 Please contact
Brittney Landrey (678)463-2912 or
Shannon Wilmot (404)405-0614
for more information.
You can also check out the Tamra Wade and Partners Team at:
 tamrawade.com