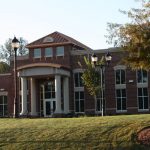 Buford City Schools is now accepting applications for out of district students who would like to attend on a tuition basis. The central office for Buford City Schools will begin accepting student applications on Wednesday January 30th. The last day to submit an application will be on March 1, 2013.
There is an application that must be filled out and turned in along with recommendation letters from previous teachers (not required a" but are helpful), previous year test scores and an application fee. The studenta™s parents/guardians will be called for a student interview. This is typically held with the school principal and a short test is given to the child on the computer.
My family did this last year, and I am proud to say that my daughter is now a kindergartner at Buford Elementary School. Why did we do this? Word of mouth; we have several friends with children in the Buford School System and we only hear wonderful things. We wanted to check it out for ourselves. We were fortunate enough to have done a tour of the school with our daughter prior to submitting the application. One of the things that really attracted us to the school is the amount of emphasis put on reading and the ability for the child to advance at their own level. Our daughter was at that time fascinated with words and letters, but had not yet aœmastereda reading. She loved visits to the library and story time, so after a tour of the elementary schoola™s library and their public display of studenta™s achievements in reading (each level of reader was assigned to a different type of ocean life). My daughter is a baseball this year (as the school year theme is sports related)a¦ that means aœrising readera. They take trips to the library to pick out books specially coded to their reading ability. They bring the books home in the evening and are encouraged to read it at least 2 times by themself. The very next day, they take that same book to class and login to the computer and do a test based on the story that they had just read. It has been so exciting watching her progress this year in reading, math, science and art!
The teachers are very accommodating and easy to speak with. My concerns are always addressed. School reports are always explained in great detail to the parents.
Parent involvement is the school is also highly encouraged. I go any chance that I am able to volunteer or participate.
The school nurse, Kim, has also been very accommodating. My daughter has food allergies and has made special trips to speak with my daughter on food sharing, etc.
Why am I telling you all of this? Well, because Stonecrest is in the Buford City School District! No need to take time to fill out an application! No need to pay tuition! Just be a part of the exciting school system that your children will be attending if you purchase at Stonecrest by Azalea Homes.