Top 5 reasons to host your next family reunion in Gwinnett: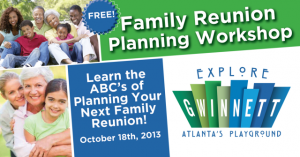 5. Gwinnett offers great vendors for everything from t-shirts and catering to DJs and photographers. Find all your vendors at the next family reunion workshop!
 4. Accessible to Atlanta. Gwinnett is an easy ride up I-85 from Atlanta. Your family can enjoy the World of Coke, Georgia Aquarium or Centennial Olympic Park and return that same evening for festivities in Gwinnett.
 3. 100 hotels in Gwinnett that are sure to fit your needs. Whether your priority is location, price or amenities we have got the perfect lodging option for you! We make it easy. Contact Cricket and share the details of your event. She will qualify our hotels and send you options for your group. Best part? Ita™s free!
 2. Over 40 awesome parks to choose from! Gwinnett County Parks and Rec has been named best in the nation  (NRPA 2008) and we know why! Affordable rental rates, awesome pavilions, picturesque green space and lakes, family-friendly pools. What more could you want?
 1. Explore Gwinnett offers FREE services to help you in your planning! Attend the free Reunion Workshop or seek suggestions from Cricket on planning your itinerary. Best of all, Cricket can handle reaching out to Gwinnetta™s hotels for discounted hotel room blocks! To top it off, you may qualify for FREE welcome bags for your group!
 Mark your calendar for Explore Gwinnetta™s next Family Reunion Workshop on Friday, October 18th at 10AM. Learn the ABCa™s of planning your next reunion from Cricket Elliott-Leeper, Family Reunion Specialist. Details here. RSVP required to Cricket Elliott-Leeper (cricket@exploregwinnett.org).