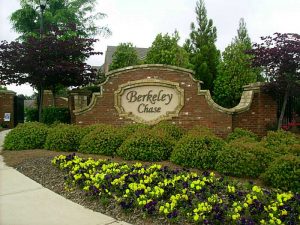 What makes a happy holiday? I think the holidays are a great time to look around and appreciate everything we have around us. Whether is be a loving family, a new job, a warm bed to crawl into at night or our loving pet that is always there when we need them to be.
This year I am thankful for my second home here at Berkeley Chase. Every morning I stop at my favorite Coffee Shop next door on my way in to the community. Then I get to spend the day inside a beautiful model home and meet new people who are looking to purchase a home. I am always elated for the customers who will soon know the amazing feeling of pride in owning a beautiful piece of property. Buying a home is a symbol of a new beginning and a feeling of promise for a brighter future.
Sometimes I take a walk around the neighborhood to look at the progress and I find it fun to watch the workers hard at work who are making these dreams of ownership possible.  You can tell by watching and talking to them that they take pride in their work and that every home is built safe for those warm holiday get togethers with family and friends.
The holidays are also a very fun time to shop! There are so many deals and the stores are constantly looking for new ways to keep the customers happy. There are four big areas to shop close to Berkeley Chase! Shoppers heaven! The Forum is a favorite for anyone who lives near here and who can forget about The Mall of Georgia with it's holiday performances and the Movie Theater. I know I always enjoy seeing which movies come out around the holidays.
No matter what you are into this holiday season, it never hurts to take a moment and appreciate all you have in life, even the cold weather. As any Georgian knows, it won't be here for long. May your holidays be filled with laughter and love!
 Cheers!
Chelsea 🙂