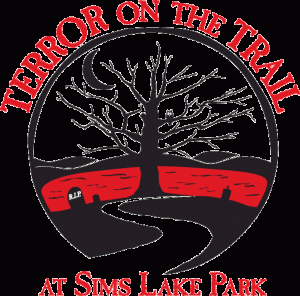 During the day, Sims Lake Park in Suwanee is an idyllic retreat where people come for a jog around the seven-acre lake. Children play and families enjoy scenic picnic spots. Everything is beautiful. Peaceful. But at night, scary teenage zombies charge six captive souls with telling tales of terror. They lead brave listeners through Sims Lake and they delight in your terror. It is the season of horror and if you dare to hear these tales a living nightmare awaits you. Not in some cozy haunted house, but in the dark, in the woods, around a lake. Brace yourself as Aurora Theatre brings another haunted attraction to life, Terror on the Trail at Sims Lake Park in Suwanee.
The Terror on the Trail takes place on a 1.1 mile loop around Sims Lake and lasts approximately 75 minutes. Guests are asked to wear comfortable shoes and to dress for the weather. Natural darkness is part of the experience, so no flashlights are allowed. This tour is not recommended for children under age 10. This haunting event will only take place on October 14, 15, 21 & 22. First tour is at 7:30 pm and the last is at 9:30 pm. Tickets are $15 in advance or $18 at the park. You can find out more information on this spooky event at www.scarystroll.com.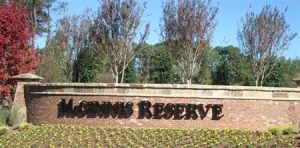 Before the tour, stop by McGinnis Reserve, a new home community, located just around the corner from Suwanee Town Center. They have gorgeous new homes available now, as well as a select few prime lots remaining to build your dream home on. Fore more information visit the Sales Center at 3291 Lake McGinnis Drive, Suwanee or call Michelle at (404) 328-6034.