Our numbers are in and I am once again excited and proud to be part of such a successful company – RE/MAX! We have outsold our competitors and it was not even close – our agents averaged 13.1 transaction sides in 2010 with our nearest competitor coming in at 7.3 at Coldwell Banker followed by 6.3 at ERA, 6.2 at Prudential, 5.4 at Century21 and 5.1 at Keller Williams.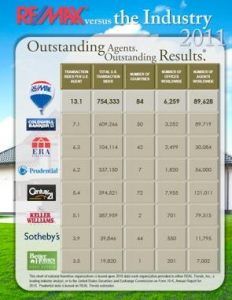 I made a commitment to figure out this market when it changed back in 2006 and right away armed myself with the tools to keep me informed and educated on the coming trends. I received my Certified Property Distress Expert Training so I would be well equipped to navigate my clients through some very complex situations to a satisfying end. I now have plenty of short sale transactions successfully executed under my belt and want to help more clients! I have a clear understanding of evaluating homeowner's equity positions and can assist in a positive outcome for you, your family and your friends.
Let my experience and education help the people you care about. Call or email me with the name and number of people that need a home ownership evaluation. I will be happy to follow up with them in a comfortable, confidential setting where their goals can be discussed and a strategy formed. And as far as buying is concerned all I can say is WOW – there has never been a better time to buy and invest. Thank you so much for turning to me for all your real estate needs and I look forward to serving you soon.