Trek or treat
Pirates and princesses. Zombies and superheroes. Rock stars and superstars. They're all expected to make an appearance at the City ofSuwanee's annual Trek or Treat event from 11 a.m.-1 p.m. Saturday, October 27, atSuwaneeCreekPark,1170 Buford Highway.
Suwanee's mascot, Parker the Dog, will be at the event and encourages those coming to dress in their Halloween costume. Activities will include a costume parade, face painting, games, crafts, and pumpkin hunt. A DJ will be on hand to instigate dancing, games, and fun. Hot dogs will be served while supplies last.
Trek or Treat is a free event designed particularly for children 10 and younger. For a more "thrilling" Halloween experience, older children and adults might consider the AuroraTheatre's Terror on the Trail, taking place at SimsLakeParkon Friday and Saturday evenings.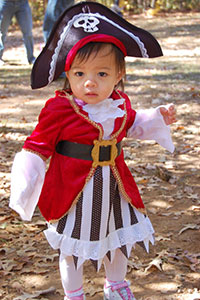 What the hay
The Harvest Farm Community Garden Managing Board is hosting its 3rd annual scarecrow competition. Gardeners, residents, schools, and clubs are invited to participate. Prizes will be awarded in the following categories: scariest, funniest, most creative, best scarecrow made by a child, and best scarecrow created from recycled materials.
Scarecrows may be placed at the garden beginning October 1. Place the scarecrows in your plot or inside the perimeter of the fence if you don't have a plot.  Judging will take place October 31, and winners will be contacted November 1. Please attach the following information to your scarecrow: your name, email address, and phone number; we suggest providing this information on a piece of paper that is inserted into a baggie to protect it from the elements. Scarecrows will remain on display in the garden until November 30 when they may be picked up; otherwise, they will be disposed of.
For more information, contact Kim Thompson at kimdthompson@bellsouth.net or 678/644-5793.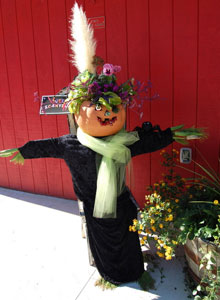 Terror on the Trail
Suwanee's normally idyllicSimsLakeParkwill be transformed into a scary backdrop for zombies and tortured tales of terror over the last three weekends of October. In cooperation with the City ofSuwanee, theAuroraTheatrewill present Terror on the Trail, a scary stroll throughSimsLakeParkled by a legion of teenage zombies, who have charged a series of storytellers with frightening guests for their pleasure and sustenance.
Tours, which last approximately 75 minutes, will be offered Friday and Saturday, October 12 and 13, 19 and 20, and 26 and 27. Tours begin at 7:30 p.m. with the last tour starting at 9:30.
Tickets are $15 in advance and available at www.terroronthetrail.com or by calling the Aurora Theatre Box Office at 678/226-6222. Tickets also may be purchased for $18 atSimsLakePark on tour dates.SimsLakePark is located at4600 Suwanee Dam   Road.
On a scariness scale, theAuroraTheatresays that Terror on the Trail is somewhere between classic storytelling and a haunted house experience. While there are some special effects, nothing will jump out to startle visitors. The tour is not recommended for children under the age of 10, and it is strongly suggested that an adult accompany children 12 and younger.
Guests are encouraged to wear comfortable walking shoes and dress for the weather. The tour is wheelchair accessible, but strollers are not permitted. No flashlights please; zombies don't like light.
McGinnis Reserve, a new home community, located just around the corner from Suwanee Town Center has gorgeous new homes to view. We are in our final phase with only 5 gorgeous homesites remaining. Now ita™s your chance to move into Gwinnetta™s Most Successful Community.
These are gorgeous new homes in Suwanee! 
Stop by theSalesCenterat3291 Lake McGinnis Drive,SuwaneeGA30024or call Michelle at 404-328-6034.
You can also check out the TamraWade and Partners team at tamrawade.com for all of your real estate needs and view Home South Communities by going to www.homesouthcommunities.com