Be inspired. Be swept away. Be immersed in the luxury and adventure of Lake Lanier Islands Resort. Situated along the shores of Lake Sidney Lanier, theGeorgiaresort boasts 1,500 scenic acres, beckoning to families, romantic couples, corporate groups and even solo travelers. Marrying luxurious amenities with unparalleled natural beauty, a Lake Lanier Islands vacation is one to be treasured long after your bags have been unpacked and your photos have been uploaded.
The sprawling grounds feature an assortment of accommodations, from stunning suites and New England-inspired lakehouses to rustic campsites and splendid villas. After a perfect night of sleep, Lake Lanier Islands resort offers a multitude of experiences for your enjoyment and exhilaration. Play a round of golf on an award-winning course, gallop through the woods by horseback, catch spotted bass for dinner at the lake, or explore our variety of dining options onsite. In the summertime, splash away at LanierWorld, and in the winter, gaze in awe at Magical Nights of Lights, the world as largest animated holiday light extravaganza.
Whatever your reason for visiting Lake Lanier Islands, Georgia this time around, there will always be more reasons to return. Make yourself at home, allow yourself to unwind and open up to the endless adventures that await you by the lake.  www.lakelanierislands.com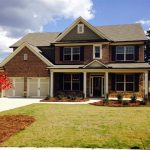 Gorgeous New Homes Are Now Selling at Ivy Creek Manor in Buford GA! Just a Few Minutes FromLakeLanierIslandsResort…
Would you Like to Know More about Ivy Creek Manor?
Call Michelle For More Details! 404-328-6034 
Or you can visit www.homesouthcommunities.com