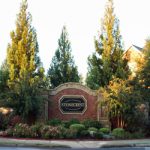 We are excited about our recent partnership with Tamra Wade & Partners! We will begin marketing our new community of Stonecrest in Buford this month, with two initial inventory homes planned to be move-in ready by spring of 2013.
Tamra Wade, team leader of Tamra Wade & Partners stated, aœIa™m excited to have the opportunity to introduce Azalea Homes to an area in Atlanta that is new to them. Ia™m confident that Azalea Homes has the right communities, floor plans and features to be successful anywhere they build.a
She also went on to speak about the Azalea and Tamra Wade collaboration by stating, aœI was intrigued to market for Azalea Homes due to their consistent attention to detail in every home they build and their commitment to customer service, whether it be to a homeowner, contractor or lender.a
Stonecrest will feature stunning two-story single-family homes ranging from the mid $400,000s to the mid $500,000s. Some of our most popular floor plans have been incorporated into this lovely community, including the elegant Essex and Coventry designs. Both of these floor plans feature spacious ownera™s suites on the main floor, gourmet kitchens, keeping rooms, formal dining rooms and even full daylight basements! These plans range from four to five bedrooms and offer three to four plus baths.
aœStonecrest home sites are much larger than other home sites in the area,a stated Belinda Deeb, one of Tamra Wade & Partnersa™ on-site agents at Stonecrest. aœWith unmatchable designs and a great location, these homes are sure to sell out quickly.a
Deeb has worked in general brokerage and with a top ten national builder, giving over a decadea™s worth of experience to buyers. Joining Deeb at Stonecrest is Connie Gleaton, another seasoned agent from Tamra Wade & Partners. Gleaton is a Georgia native and has been in the Atlanta real estate market for 17 years. She has worked with various national and custom home builders. Both agents are excited about Stonecrest and look forward to selling there.
Stonecrest is located off of Holiday Road in southern Hall County just minutes from I-985 in the award-winning Buford City School District.
For more information about the beautiful homes at Stonecrest, please contact Tamra Wade at 855-770-4663. Also, please visit www.azaleahomesga.com.